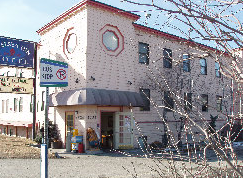 We at the Chelsea Inn are committed to providing you with personalized, professional guest service and genuine hospitality.
Our hotel features comfortable one and two bedroom that are accommodated with full size bathrooms. Affordable studio units are also available . As a complimentary service for our guests, we provide free Cable TV with HBO, local phone calls, and high-speed internet services as requested. We provide free shuttle service to and from the Ted Stevens International Airport and Alaska Railroad train station(summer season only). Come and experience the Royal treatment in our spacious suites without paying a kings ransom. We would like to thank you ahead of time for your patronage and hope your time in Alaska is a pleasant one.
Fishing in Alaska is different from fishing anywhere else in the world.Altogether, Alaska has 21 recognized species of sport fish in its streams, lakes and oceans.
The northern lights are just about the only thing that could get Alaskans to stand outside without a coat in January.